For more information about Captivating Covers, click here.
Hello and welcome back to Captivating Covers! I haven't posted this one in a while, but I thought "why not" because a new year is coming and I shall be making some changes with my blog anyways…(more info. for that coming soon).
I was going through my recent finds on Goodreads and I found this absolutely amazing cover that I obviously wanted to share with you guys today. Hint: This novel is a finalist for the 2015 Book Shimmy Awards!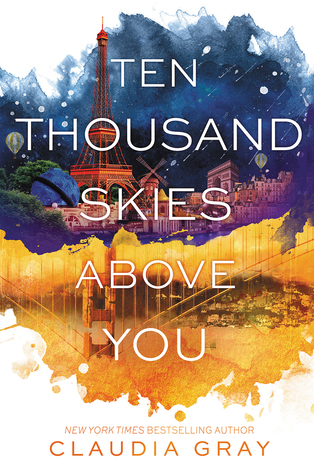 TITLE: Ten Thousand Skies Above You
AUTHOR: Claudia Gray
Genre: Young Adult, Science Fiction, Fantasy, Romance
Published: November 3rd, 2015
LOOK AT THIS COVER!!!! No wonder why it's a finalist — this cover is absolutely gorgeous! I adore the watercolor-looking aspect and the scenery/setting is great. The title font is just right and the color contrasts are so unique and stunning to look at. I would not mind buying this novel just because of the cover…
But with that being said, the novel itself DOES sound quite intriguing. So if you are the complete opposite of me and you think the cover is horrible, perhaps reading the synopsis will persuade you to pick it up…?
Synopsis from Goodreads:
Ten Thousand Skies Above You (Firebird #2) by Claudia Gray
THIS IS A SEQUEL TO THE FIRST NOVEL: A THOUSAND PIECES OF YOU
---
"Ever since she used the Firebird, her parents' invention, to cross into alternate dimensions, Marguerite has caught the attention of enemies who will do anything to force her into helping them dominate the multiverse—even hurting the people she loves. She resists until her boyfriend, Paul, is attacked and his consciousness scattered across multiple dimensions.

Marguerite has no choice but to search for each splinter of Paul's soul. The hunt sends her racing through a war-torn San Francisco, the criminal underworld of New York City, and a glittering Paris where another Marguerite hides a shocking secret. Each world brings Marguerite one step closer to rescuing Paul. But with each trial she faces, she begins to question the destiny she thought they shared.

The second book in the Firebird trilogy, Ten Thousand Skies Above You features Claudia Gray's lush, romantic language and smart, exciting action, and will have readers clamoring for the next book."
Let me know what you think about this novel down below & if you have read any novels by Claudia Gray!
Thanks for reading & I'll see you next time…