Random Quote of the Day: "Never stand begging for that which you have the power to earn." – Miguel de Cervantes
Hello sunshines! 🔆 Captivating Covers is a meme created by me — @JBelkBooks. Every week or so, I share a cover of a novel that I find to be Captivating. It doesn't have to be one you've read, just one that you enjoy! You can add your own twist to it, but I like to include the book synopsis & book details. So, I created this meme to share my findings with you all!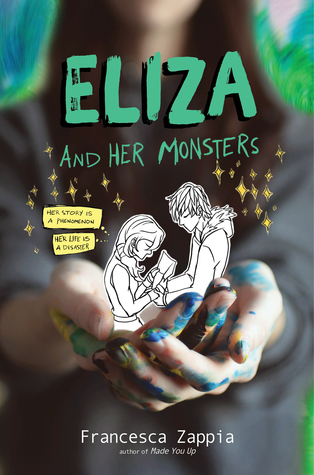 Title: Eliza and Her Monsters
Author: Francesca Zappia
Genre: Young-Adult, Contemporary
Published: July 13th, 2017
I love, love, love how there's so much going on on this cover — there's a female figure on the front, yes, but she has hands covered in paint!! As a fellow painter, this excited me because we don't see many MC's that have that artistic/creative ability. Also, the clash between realism & fictional aspects on the cover really caught my attention.
Want to read the synopsis? Check it out below!
SYNOPSIS FROM GOODREADS:
Eliza and Her Monsters by Francesca Zappia

"Eighteen-year-old Eliza Mirk is the anonymous creator of Monstrous Sea, a wildly popular webcomic, but when a new boy at school tempts her to live a life offline, everything she's worked for begins to crumble.

In the real world, Eliza Mirk is shy, weird, smart, and friendless. Online, Eliza is LadyConstellation, the anonymous creator of a popular webcomic called Monstrous Sea. With millions of followers and fans throughout the world, Eliza's persona is popular. Eliza can't imagine enjoying the real world as much as she loves her digital community. Then Wallace Warland transfers to her school, and Eliza begins to wonder if a life offline might be worthwhile. But when Eliza's secret is accidentally shared with the world, everything she's built—her story, her relationship with Wallace, and even her sanity—begins to fall apart. With pages from Eliza's webcomic, as well as screenshots from Eliza's online forums, this uniquely formatted book will appeal to fans of Noelle Stevenson's Nimona and Rainbow Rowell's Fangirl."
This novel sounds SO good!! A clash between NIMONA & FANGIRL??? That sounds amazing. If you plan on reading this novel, let me know down in the comments! And if you've found any Captivating Covers recently, feel free to link them! (:
Thanks for reading & I'll see you next time…
FIND ME ELSEWHERE: