Random Quote of the Day: "The deeper sorrow carves into your being the more joy you can contain." – Kahlil Gibran
Hello sunshines! 🔆 Ya know, it really seems as if so many 2017 releases have amazing covers!! Yay, 2017! With that being said, today I am sharing a not-yet released novel, but I guess that just adds to the anticipation!! 😀
Captivating Covers is a meme created by me — @JBelkBooks. Every week or so, I share a cover of a novel that I find to be Captivating. It doesn't have to be one you've read, just one that you enjoy! You can add your own twist to it, but I like to include the book synopsis & book details. So, I created this meme to share my findings with you all!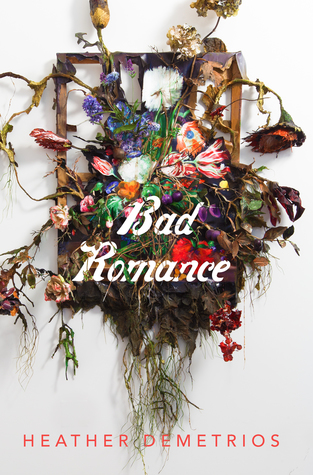 Title: Bad Romance
Author: Heather Demetrios
Genre: Young-Adult, Contemporary
Published: June 13th, 2017
Guys I'm telling you, every time I look at this cover I am continuously in awe. The cover reflects the synopsis of the novel finely and I enjoy how almost…"raw" it looks? It's so simple yet very complex in meaning and I love that about this cover. I've personally never seen a cover like so, so that's also a plus! 🌱🌾
Want to read the synopsis? Check it out below!
SYNOPSIS FROM GOODREADS:
Bad Romance by Heather Demetrios
"Grace wants out. Out of her house, where her stepfather wields fear like a weapon and her mother makes her scrub imaginary dirt off the floors. Out of her California town, too small to contain her big city dreams. Out of her life, and into the role of Parisian artist, New York director—anything but scared and alone.

Enter Gavin: charming, talented, adored. Controlling. Dangerous. When Grace and Gavin fall in love, Grace is sure it's too good to be true. She has no idea their relationship will become a prison she's unable to escape.

Deeply affecting and unflinchingly honest, this is a story about spiraling into darkness—and emerging into the light again."
So, are you adding this one to your TBR? What do YOU think about the cover? Have you read anything by Demetrios? Chat with me in the comments! (:
Thanks for reading & I'll see you next time…
FIND ME ELSEWHERE: