Random Quote of the Day: "Freedom is still the most radical idea of all." – Nathaniel Branden
Hello sunshines & Happy Sunday!
 We are starting a new week and with this new week we will be better people — just wait and see! ❤ Captivating Covers is a meme created by me — @JBelkBooks. Every week or so, I share a cover of a novel that I find to be Captivating. It doesn't have to be one you've read, just one that you enjoy! You can add your own twist to it, but I like to include the book synopsis & book details. So, I created this meme to share my findings with you all!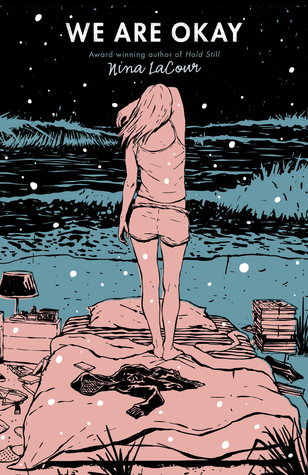 Title: We Are Okay
Author: Nina Lacour
Genre: Young-Adult, Contemporary, LGBTQ+
Published: February 14th, 2017
Another 2017 Diverse read that should definitely be on your TBR! I had the chance to hear Lacour talk about this novel in person AND see the ARC, and this novel sounds amazing! The cover has almost a comic-feel to it, but I love the artsy representation and the contrasting pink-ish and blue colors. If you are looking for a way to treat yourself this Valentines Day, be sure to check this one out! ❤
Want to read the synopsis? Check it out below!
Synopsis from Goodreads:
We Are Okay by Nina Lacour
""You go through life thinking there's so much you need. . . . Until you leave with only your phone, your wallet, and a picture of your mother."

Marin hasn't spoken to anyone from her old life since the day she left everything behind. No one knows the truth about those final weeks. Not even her best friend Mabel. But even thousands of miles away from the California coast, at college in New York, Marin still feels the pull of the life and tragedy she's tried to outrun. Now, months later, alone in an emptied dorm for winter break, Marin waits. Mabel is coming to visit and Marin will be forced to face everything that's been left unsaid and finally confront the loneliness that has made a home in her heart."
 I've read a few books by Lacour, and from what I do remember I think I enjoyed it! If YOU have an Captivating Cover recommendations, definitely send them my way! (:
Thanks for reading & I'll see you next time…
FIND ME ELSEWHERE: