Random Fact of the Day: Frogs cannot swallow without blinking.
Hello sunshines! 🔆 My name is Jesalin, and I love to sleep. So, I felt that this tag was the PERFECT one for me to post! 😀 Let's get on with the Bedtime Book Tag! 💤
WHAT BOOK KEPT YOU UP ALL NIGHT READING?
Stolen by Lucy Christopher. I think it was during the summer and I just wanted to finish this novel because it was so short but SO good. Definitely recommend!
WHAT BOOK MADE YOU SCARED TO GO TO SLEEP?
I've never read a book that has made me scared to go to sleep! With that being said, I don't read a lot of Paranormal/Horror, so I perhaps that is why, lol.
WHAT BOOK ALMOST PUT YOU TO SLEEP?
Ooo..so many! (is that a bad thing?) The first two that came into mind was We Were Liars by E. Lockhart and The Dinner by Herman Koch. Both were DNFs of 2015, but I am willing to pick if WWL again just because a lot of people actually enjoy that novel!
WHAT BOOK HAD/HAS YOU TOSSING AND TURNING IN ANTICIPATION OF ITS RELEASE?
Holding Up The Universe by Jennifer Niven was definitely a highly anticipated novel of mine this 2016, but I have also been anticipating Nicholas Sparks' newest novels — See Me and Two by Two!!
WHAT BOOK HAS YOUR DREAM BOYFRIEND/GIRLFRIEND?
AHhhh, again, so many!! A few of my favorites are Park from Eleanor & Park, Theodore from All The Bright Places, and Charlie from The Perks of Being A Wallflower! 💗
WHAT BOOK WORLD WOULD BE YOUR WORST NIGHTMARE TO LIVE IN?
The book world illustrated in James Dashner's, The Maze Runner. Heck, it would be my worst nightmare to live in ANY of the worlds in the entire series!! It literally made me scared just READING about the world 😳
WHAT BOOK HAS A NIGHTMARISH CLIFFHANGER?
Gone Girl by Gillian Flynn. This isn't really a cliffhanger, but it was awfully disturbing and/or unexpected!! One of the most unexpected endings I've ever read!
WHAT BOOK COVER REMINDS YOU OF NIGHT TIME?
First one to come into mind was Through The Woods by Emily Carroll. I read this graphic novel a while ago, and it was pretty good! A little creepy, but definitely worth the read!
WHAT BOOK HAVE YOU ACTUALLY DREAMED ABOUT?
Ooo, difficult question…let me think…I recall dreaming about Never, Never: Part One by Colleen Hoover & Tarryn Fisher…I don't even remember the dream, but I remember talking about it with my best friend xD #awkward
WHAT BOOK MONSTER WOULD YOU NOT WANT TO FIND UNDER YOUR BED?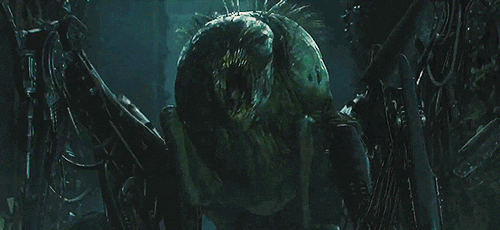 The things in the Maze Runner…what are they called again??? GRIEVERS!! Yeah, those are nasty and freaky looking — definitely don't want those under my bed!!! (if they could fit?)
---
That tag was actually really fun!! I won't be tagging anyone just because I wasn't necessarily tagged, but if anyone is feeling a little sleepy or wants to complete this tag, consider yourself tagged!! I would love to see your responses, so don't forget to pingback to this post!
What's the scariest book you've read?? What's your BIGGEST nightmare?? How about your BIGGEST dream? 😴 Chat with me in the comments! 🙂
Thanks for reading & I'll see you next time…
FIND ME ELSEWHERE: