Random Fact of the Day: A jiffy is an actual unit of time for 1/100th of a second.
Hello sunshines & Happy Tuesday! This week's TTT actually makes me feel like a very bad person because the topic is…
Top Ten Tuesday is a weekly meme hosted by The Broke and the Bookish. Each week I will post a new Top Ten List. This list includes topics such as 'my top ten favorite authors' or 'my top ten books of this month'. The topics will change, so make sure you stay tuned for each week!
I have a lot of books. Many not a GIGANTIC supply or a full library of books (although I wish), but I have…a lot. And yes, that means I have NOT read every single book that's on my shelves. But which ones have been there before I started blogging?? (Keep in mind I started blogging as of August 2015)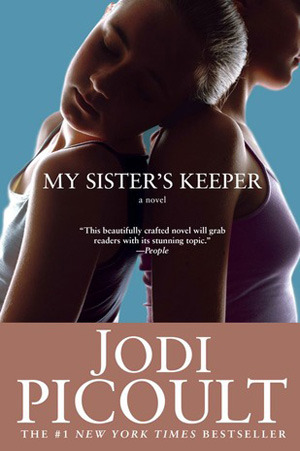 [1.] MY SISTER'S KEEPER by Jodi Picoult: I've had this one for a while and I haven't read it, just because I saw the movie before reading the book & the book is a little on the "longer" side. So I have to be in the mood to read this Picoult book.
[2. & 3.] UGLIES + PRETTIES by Scott Westerfeld: I am still interested in this series however, I don't have all of the novels in the series. As you guys know, in order for me to start a series I like to have ALL the novels so I can just binge-read them. So..that's why I haven't read Uglies.
[4.] ANGELLFALL by Susan Ee: Same thing applies to this series — I don't own the other two novels, and therefore I haven't picked up AngelFall. This novel has really good reviews, though, so I should really purchase the rest so I can read them…
[5.] THIS STAR WON'T GO OUT by Esther Earl: This memoir is, again, on the larger side so I have to dedicate some time to this one. This novel still sounds so emotional and enlightening, so I am definitely still looking forward to reading it!
[6.] I HUNT KILLERS by Barry Lyga: Another uncompleted series that I haven't read. Again, has really good reviews, though!
[7.] I'LL GIVE YOU THE SUN by Jandy Nelson: I WILL read this novel before 2016 ends!! All the novels I have been listing have been praised greatly, but this one ESPECIALLY. The cover is gorgeous, the novel sounds beautiful…Mark my words — before 2016 it will be read!!
[8.] DISTANT SHORES by Kristin Hannah: I don't know if this one technically counts because I did TRY to read this novel, but it ended up being a DNF of last year…
Haha, okay, so surprisingly I don't have 10 books to list! I was looking at my 'purchased' list on GR, & it looks like I didn't officially start mass-buying books until I started blogging…so…yeah…I guess what we know that means, lol. ANYWAYS, yes, those are the 8 novels that I still have to read that were purchased before I started blogging! I am hoping to read all 8 before the year ends, but we'll see how that goes considering most of them are just unfinished series.
Did you post a TTT today? Have you read any of the novels that I HAVEN'T read yet?? What'd you think of them? Chat with me in the comments! 🙂
Thanks for reading and I'll see you next time…
FIND ME ELSEWHERE: