Random Fact of the Day: Most dreams last only 5 to 20 minutes.
Hello sunshines! I hope everyone's Monday is going swell and you are enjoying your weather (I sure am not, lol). Today I am back with another tag, just because I love tags so much. This one I wasn't actually tagged for, but Jacquie @ Rattle the Stars opened the tag to anyone that wanted to do it, so I took that as my queue 😉
WHAT WAS THE LAST BOOK YOU MARKED AS 'READ'?
Through the Woods by Emily Carroll! I think I gave it a 4/5 stars, but a review is to come! 🙂
WHAT ARE YOU CURRENTLY READING?
Two novels by the same author actually:
The Boy with Words by C.E. Wilson
This Is Me by C.E. Wilson
I am trying to get into Me Before You by Jojo Moyes, but I've been swarmed with review copies right now…So hopefully I'll be done with review copies soon so I can read other novels that have been sitting on my shelves…
WHAT WAS THE LAST BOOK YOU MARKED AS 'TBR'?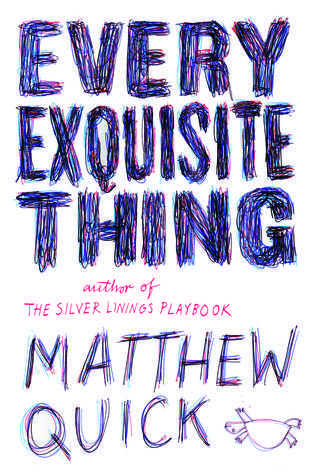 Every Exquisite Thing by Matthew Quick! I haven't read anything by Quick yet, but I saw this one at Target yesterday, read the synopsis, and it sounded really good! I think it has like…a 3.76/5 star rating on GR, so I mean, it has to be good..? Also, the cover is gorgeous sooo….
WHAT BOOK DO YOU PLAN TO READ NEXT?
I already mentioned it, but I want to read Me Before You by Jojo Moyes next! I've been wanting to watch the movie, but I'm one of those people that have to read the book first if I am aware that there is a movie, lol.
DO YOU USE THE STAR RATING SYSTEM?
I do! I wish GR had half stars, but I've been making do with what they have. In my review I usually put the actual star rating, so it's okay.
ARE YOU DOING A READING CHALLENGE?
I am currently doing two reading challenges, one being the GR Reading Challenge and the other being the 'Read the Books You Buy' challenge. I am failing at both right now, but hey, failure is cool, too xD I recently lowered my GR goal to 30 — it was at 65 in the beginning of the year, then about 2-3 months later I changed it to 50. And now I'm at 30! As for the RTBYB challenge, I am also not doing so well just because I bought A TON of novels the last two months…and the months prior…
DO YOU HAVE A WISHLIST?
Besides my TBR list on GR and my handwritten version of it, the only other wishlist I have is my Amazon Wishlist! I don't update this one as much as my GR or handwritten list, but I still use it just in case someone wants to be an angel and send me some books *wink, cough, wink* 😉
WHAT BOOK DO YOU PLAN TO BUY NEXT?
ALLLL OF THEM!! Jkay, if I were rich, yes. But since I am not, (sadly) no, lol. If there's one book that I really want to buy right now it has to be any of Adam Silvera's novels. I hear such great things about him and his writing, and I REALLY want to jump on the hype train this time! Also, he's so funny on Twitter, so I'm hoping that reflects in his writing…?
DO YOU HAVE ANY FAVOURITE QUOTES, WOULD YOU LIKE TO SHARE A FEW?
I freakin' love quotes, so of COURSE I have some favorites. Here are a few:
WHO ARE YOUR FAVORITE AUTHORS?
John Green
Jennifer Niven
Rainbow Rowell
Colleen Hoover
Jay Asher
David Levithan
HAVE YOU JOINED ANY GROUPS?
Groups? The only 'groups'  I'm in are the GR groups, lol. Those include The YA Book Club, Making Connections, Blogger Lift, & Book Bloggers of Goodreads 🙂
WHAT DO YOU THINK THAT GOODREADS COULD DO BETTER?
Half-stttaarsssss!! This would make things much more easier, and this can benefit the author as well with honest and accurate ratings!
---
And that is all for the GR Book Tag! I would love for you to post this tag yourself, for reading other people's responses to this tag would actually be really fun! So if YOU are interested in this tag, consider yourself tagged! Just remember to pingback to this post so I can see yours 🙂
What do you think GR can improve on? What's the last novel you added to your TBR? Chat with me in the comments!
Thanks for reading and I'll see you next time…
FIND ME ELSEWHERE: