Random Fact of the Day: There is no tipping at restaurants in Japan. If you do, it's unusual.
Hello sunshines! My name is Jesalin and I am professional hoarder. Today I am back again with another wonderful Captivating Covers — poetry edition! I've recently been looking into more poetry, and I found a few that have some AMAZING reviews on Goodreads, so if you are interested in those, you can those out on my GR 'To-Read' page!
However I am here today to only showcase one of those poetry novels, so let's get to it! 🙂 For more information about Captivating Covers, click here.
IMAGINE THIS: Growing up (I know, scary). Hangovers. Heartbreaks. All of these topics in one book of poetry, all meaning something different to any reader. Going back to the past with a new mind, a new idea, and new you. And hey, there's a kick-ass butt cover to go with it. Check it out 😉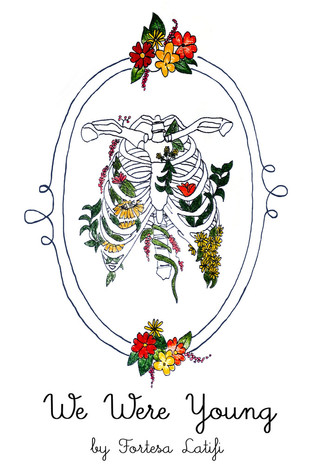 Title: We Were Young
Author: Fortesa Latifi
Genre: Poetry, Relationships
Published: September 24th, 2015
Okay, even though I am a die-hard floral person, that is NOT the entire reason why I love this cover. The cover just seems so…raw to me? I don't know if it's just me, but when I see that cover I think, "perfecting imperfections" or "growing from the inside, out"…I don't know, I think I'm just weird xD But yes, I absolutely adore this cover — the handmade/sketchy aspect, the simplicity, and even the title. The title reminds me of the song, When We Were Young by Adele, and I love Adele ❤ Check out the synopsis below! 
Synopsis from Goodreads:
We Were Young by Fortesa Latifi
"This is the second book by Fortesa Latifi.

In her sophomore collection of poetry, Fortesa revisits themes from past writings with a new maturity. We Were Young explores the heartbreaks, hangovers, and hang ups associated with growing up."
Did I mention this one has a 4.14 star rating on GR?? Yeah, go pick it up at your local library/bookstore! And if you don't like it, you are more than welcome to come back to me and scream all the bad words you want 🙂 Jkay, I hope you wouldn't do that. But anyways, what do you think of the cover? How about the synopsis? Do you recommend any poetry novels? Chat with me in the comments lovelies! ❤
Thanks for reading & I'll see you next time…