Random Fact of the Day: The original name for the butterfly was 'flutterby'.
For more information about Captivating Covers, click here.
Hello sunshines! I hope everyone is having a fantabulous day with lots of food & tons of great books!
IMAGINE THIS: A beautiful book cover with an A-MAZING combination of colors. The title reminds you of a mix between "caramel" and "carnival".  It's almost like you are in a galaxy (but of course, you aren't) and you just want to showcase this cover EVERYWHERE you go and say, "HEY, LOOK AT THIS COVER!!! THE TYPOGRAPHY IS ALLURING JUST LIKE YOU!!!" The cover has everything — great color scheme, an awesome tagline, and it's a hardcover!!!
That little rant or description (whatever floats your boat) that you just read is exactly how I feel about the cover below. Check it out: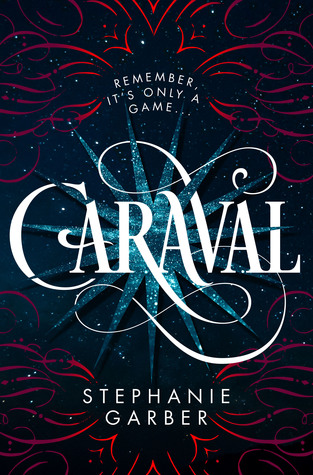 Title: Caraval
Author: Stephanie Garber
Genre: Young Adult, Fantasy
To Be Published: January 17th, 2017
I know some people are already getting this novel from the publisher or whatever, and i must say I am a little jealous! The cover is amazing, but the synopsis is also pretty intriguing. Therefore it wouldn't be a COMPLETE cover-buy 😉 Read the synopsis below!
Synopsis from Goodreads:
Caraval by Stephanie Garber
"Before you enter the world of Caraval, you must remember that it's all a game . . .

Scarlett has never left the tiny island where she and her beloved sister, Tella, live with their ruthless father. Now Scarlett's father has arranged a marriage for her, and Scarlett thinks her dreams of seeing Caraval, the legendary, once-a-year performance where the audience participates in the show, are over.

Then, Scarlett's long-dreamt of invitation to Caraval finally arrives. So, Tella enlists a mysterious sailor's help to whisk Scarlett away to this year's show. But as soon as the trio arrives, Tella is kidnapped by Caraval's mastermind organizer, Legend.

Scarlett has been told that everything that happens during Caraval is only an elaborate performance. But she nonetheless soon becomes enmeshed in a game of love, heartbreak, and magic with her sister, with Legend, and with the other players in the game. And whether Caraval is real or not, she must find Tella before the five nights of the game are over, a dangerous domino effect of consequences is set off, and her sister disappears forever."
Have you heard of this novel? Have you received an ARC yet? As always, your opinion is welcomed here!
Thanks for reading & I'll see you next time…