Random Fact of the Day: The average strawberry has 200 seeds.
For more information about Captivating Covers, click here.
Hello & welcome to Captivating Covers! Let's see what this week's cover is…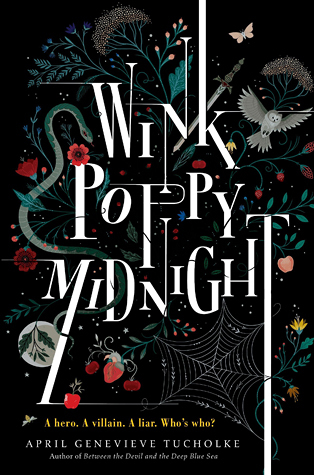 Title: Wink Poppy Midnight
Author: April Genevieve Tucholke
Genre: YA, Mystery, Contemporary
Published: March 22nd, 2016
So I was scrolling around Goodreads' New Releases, and I saw this beauty. We locked eyes and I knew we would be in love forever. And I thought, "Yes, this is the one."  Honestly, what is there NOT to love about this cover? The title is awesome and very unique and the background is sort of fairytale/clipart-like and it's JUST SO ADORABLE! If I saw this cover at a bookstore, I must admit, it would definitely be a cover-buy for me. Oh, and did you see the tagline?
"A hero. A villain. A liar. Who's who?"
Like woaaah, things just escalated so quickly, and by that tagline you can clearly conclude that this novel is a mystery.
I haven't read anything by Tucholke, but this one does sound interesting! It IS a very new release, so if you've read this or plan to read it, let me know!
Check out the synopsis down below if you are interested in Wink Poppy Midnight!
Synopsis from Goodreads:
Wink Poppy Midnight by April Genevieve Tuckolke
---
"Every story needs a hero.
Every story needs a villain.
Every story needs a secret.

Wink is the odd, mysterious neighbor girl, wild red hair and freckles. Poppy is the blond bully and the beautiful, manipulative high school queen bee. Midnight is the sweet, uncertain boy caught between them. Wink. Poppy. Midnight. Two girls. One boy. Three voices that burst onto the page in short, sharp, bewitching chapters, and spiral swiftly and inexorably toward something terrible or tricky or tremendous.

What really happened?
Someone knows.
Someone is lying."
As always, your opinion is welcomed here! Let me know what you think about Tucholke's novels and if you think this cover is captivating!
Thanks for reading & I'll see you next time…