Sacrificing books??? What?? How could someone?? (this was me when I saw this tag)
Hello my friends and welcome to another tag! I was tagged by the wonderful Alyssa @ alyssaisreading so thank you so much for thinking of me, Alyssa! I will admit, when I saw I was nominated a slight shiver aroused in me because of the whole idea of the tag, but I thought I might as well give it a try, lol.
*DISCLAIMER: Everything I say below is full of my opinions and my thoughts therefore you can disregard anything you don't care for, lol. This tag is just for fun, so please don't think I am trying to hurt your feelings or change your personal opinions!
---
1.) An Over-Hyped book: Let's start this off with a Zombie Apocalypse! Let's say you're in a book store, just browsing, when BAM! ZOMBIE ATTACK. An announcement comes over the PA System saying that the military has discovered that the zombies' only weakness is over-hyped books. What book that everyone else says is amazing but you really hated do you start chucking at the zombies knowing that it will count as an over-hyped book and successfully wipe them out?!
Surprisingly I don't have an answer for this one! I haven't really read any over-hyped books yet, so yeah, lol…N/A! 🙂 However, that doesn't mean I don't own any that are sitting on my bookshelves right now!
2.) A Sequel: Let's say you've just left the salon with a SMASHING new haircut and BOOM: Torrential downpour. What sequel are you willing to use as an umbrella to protect yourself?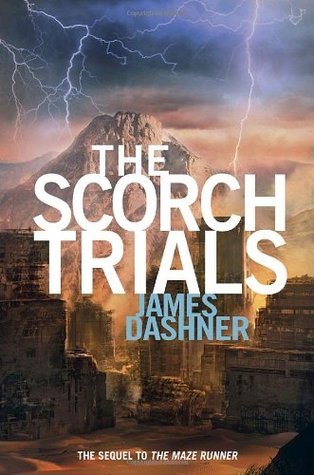 The Scorch Trials by James Dashner. This is the second novel in the Maze Runner series and honestly, everything after the first novel was going downhill. Don't get me wrong, the series as a whole was…okay. But I could do without reading the rest of the series.
3.) A Classic: Let's say you're in a lecture and your English teacher is going on and on about how this classic changed the world, how it revolutionised literature and you get so sick of it that you chuck the classic right at his face because you know what? This classic is stupid and it's worth detention just to show everyone how you feel! What classic did you chuck?
I don't read a ton of classics, but if there's one that I definitely didn't enjoy that would have to be Things Fall Apart by Chinua Achebe. This was a required read this school year and I did actually try and read it. However, historical fiction isn't really my go-to genre (ever) and I just had so many issues with it.
4.) Your least favourite book of life!: Let's say that you're hanging out at the library when BAM global warming explodes and the world outside becomes a frozen wasteland. You're trapped and your only chance for survival is to burn a book. What is the book you first run to, your least favourite book of all life, what book do you not fully regret lighting?
The Dinner by Herman Koch. I read this novel last year in hopes that I would enjoy it, and I really didn't. It was SO slow & there was no character development. I had no connections with the characters and it was all together very boring. The only reason I continued to read it for as far as I did was because I had to write an honest review… #confession
---
And that is the end of the Book Sacrifice Tag! This tag was actually kind of fun because I got to get some hatred out, lol. (Props to the creator of this tag!!) However, I hope I didn't disrespect the authors (or anyone reading) too much — you guys are still awesome for being writers and for reading this post!
I NOMINATE YOU TO DO THIS TAG:
As always, you are not obligated to post this tag! However, I would love to read your opinions, so if you do decide to post it, definitely make sure to pingback to this post so I can check it out! Have fun! 🙂
Thanks for reading and I'll see you next time…