Title: Falling into Place
Author(s): Amy Zhang
Genre: YA, Contemporary, Realistic Fiction
Page Count: 296
Published: September 9th, 2014
Format: Paperback
Source: Purchased
BUY HERE: Amazon | Barnes & Noble | Book Depository
"On the day Liz Emerson tries to die, they had reviewed Newton's laws of motion in physics class. Then, after school, she put them into practice by running her Mercedes off the road.

Why? Why did Liz Emerson decide that the world would be better off without her? Why did she give up? Vividly told by an unexpected and surprising narrator, this heartbreaking and nonlinear novel pieces together the short and devastating life of Meridian High's most popular junior girl. Mass, acceleration, momentum, force—Liz didn't understand it in physics, and even as her Mercedes hurtles toward the tree, she doesn't understand it now. How do we impact one another? How do our actions reverberate? What does it mean to be a friend? To love someone? To be a daughter? Or a mother? Is life truly more than cause and effect? Amy Zhang's haunting and universal story will appeal to fans of Lauren Oliver, Gayle Forman, and Jay Asher."
---
I actually don't recall any before reading thoughts. I know I think I got this rec from a Booktuber, but that's all I remember. I love Contemporaries & anything related to mental illness, so I decided to purchase this bad boy!
CHARACTERS: 4/5 stars
The main character, Liz Emerson, is immediately the center of attention. You learn a lot about her besides her family & friends throughout the entire novel. Her personality wasn't too likable, but at times she was relatable and humorous (is that weird?). I couldn't relate to her completely because of the actions she partakes, but I did understand why she did what she did. I think the person she portrays in this novel is pretty bitchy, again because of her actions, but it does add more diversion. Her two main friends, Julia & Kennie, are two totally different people as well. Even though they are all friends, each character has their own flaws, insecurities, & conflicts, & I thought that was a very important decision that Zhang made. Each character is well developed & I enjoyed reading more about them. Liam was one of our mystery characters because you don't learn a whole lot about him. But his presence & point of view was worthy & again, that was a great choice made my Zhang. There are a few other minor characters, but those are the ones that impacted the story most in my opinion.
NARRATION: 5/5 stars
THE NARRATION OF THIS STORY WAS ABSOLUTELY GENIUS. The whole novel is told in a mysterious & omniscient person's perspective, and you don't fully understand who/what it is until the end of the novel. I must admit, it did wreck my mind trying to figure it out, but it was definitely worth the wreck, lol. I won't spoil who/what it is, but it was an absolutely positive addition to this novel.
WRITING: 4.5/5 stars
The writing of the novel was lyrical & beautiful. I loved the several point of views & I was immediately captivated by the first page. I will definitely be picking up more of Zhang's works.
THE FEELS: 4.5/5 stars
AHHH..This one almost had me literally crying. I am pretty sensitive, so when it comes to these topics, of course the water works are going to happen. However, I didn't CRY…I just teared a little toward the end. Also like I said, some of the characters were pretty funny, so I had a few chuckles here and there.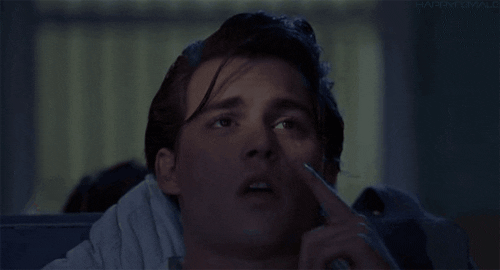 OVERALL: 
This novel was very heartbreaking, wonderful, and educational. I say educational because it does include emphasis on Newton's Law of Motion & mental illness. It also expresses many topics such as teen pregnancy, drugs, bullying, addictions, etc. The narration was probably the best thing about this novel, so if you enjoy unknown narrators, I definitely say give this one a try. Falling into Place is NOT an easy novel to read — it's thought provoking, influential, & emotional. I kept asking myself "why" a lot, but in a good way. The plot did remind me of If I Stay by Gayle Forman, but in my opinion…nevermind. I am not going to compare, lol. ANYWAYS, so yes, I really did enjoy this novel & I like I said before, I look forward to reading more content by Zhang.
So what's my rating?
I gave Amy Zhang's, Falling into Place, a…
4.5 out of 5 stars
Let me know down below your thoughts, comments, or questions regarding this novel!
Thanks for reading & I'll see you next time…