It is the FINAL Wrap-Up of the year! I mentioned in my Christmas Haul that I would post the rest of my non-bookish gifts that I received, so stay tuned for that down below. I will be posting something that reflects on this year's blogging experiences & my 2016 goals. And then after that you should see a January 2016 TBR. I just wanted to clear that all up in advance.
But now onto my December Wrap-Up. This month I was striving to complete my Goodreads Reading Challenge. This year I set the goal of 30 read books because I didn't start officially reading as a commitment again until the summer of 2015. So that gave me around 6 months to read as many books as I thought I could, also thinking about school and such. I originally set it to be 25, but then around mid-August I decided to add 5 more. And I am pleased to say that I DID reach 30 novels (not including my DNFs). Goodreads doesn't count re-reads so it is going to say 29/30.  I think I am just going to change the read date to early 2015, so at least it'll say I completed it. But, originally I read Looking for Alaska by John Green in 2014. That is one thing that I hope Goodreads changes in 2016.
Here are the novels that I finished in the month of December:
Five-Seven-Five by C.E. Wilson
My Rating: 4 out of 5 stars
*I was sent this novel in exchange for an honest review*
And We Stay by Jenny Hubbard
My Rating: 3 out of 5 stars
The Secret of the Old Clock by Carolyn Keene
My Rating: 4.5 out of 5 stars
Scott Pilgrim's Precious Little Life: Volume 1 by Bryan Lee O'Malley
My Rating: 4.5 out of 5 stars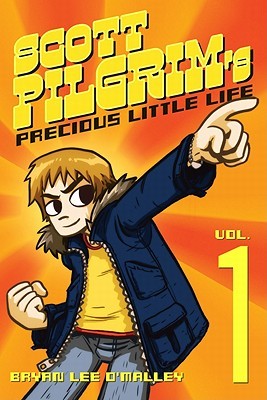 DNF
The Dinner by Herman Koch (full review here)
---
I guess I could've read more this month since I was on Christmas break, but really I was just trying to reach my goal and then focus more on this blog and other necessities. However I think I did have an overall successful reading experience this month — 3 of the 5 novels that I completed were pretty great, so that was awesome to end with for 2016.
I DID create some art pieces this month; most of them are not completed so I think I'll leave them out until January…
OH! And one more thing until we get into my top posts this month. I think I mentioned in several posts but mostly here that I would be going to my local Wal-Mart and buying a good amount of toys and items for the less fortunate children for the holidays. I did get the opportunity to buy toys for ages 3+ and I wrapped every single one. I took the toys to my grandmother's church and gave them out to the children and it was a great experience. I did have some leftover cash after purchasing the toys, so later on this week I plan on moving that cash onto my debit card in which I will donate to a charity of choice. But yes, I just wanted to share that information with you guys since I had some people asking me about my success with that event. I am setting a goal for next year, so stay tuned for that in my 2016 Goals post.
---
Top Two With Most Views:
Top Two With Most Comments: 
Top Two With Most Likes:
Thank you for all of the interactions this month! Please feel free to check out those top posts 🙂
And PLEASE don't forget this month's Feature with Followers:
Cristina @ My Tiny Obessions | December 6th, 2015
Jesse @ Books at Dawn | December 13th, 2015
Also if you haven't taken my blog survey PLEASE do so — I promise it won't take too long.  I want to hear your thoughts about my blog since you've been possibly following me! I've only been blogging for about 5 months, but I still want to know how I can improve & what I do/don't need to change for next year! (If you haven't noticed I have made some changes already!) THANK YOU TO ALL IN ADVANCE — you are AMAZING!!
[CONTINUE READING IF YOU WOULD LIKE TO SEE THE REST OF THE NON-BOOKISH ITEMS I OBTAINED FOR CHRISTMAS!!!]